This is info for 2022, 2023 registration coming soon! Check back in late May!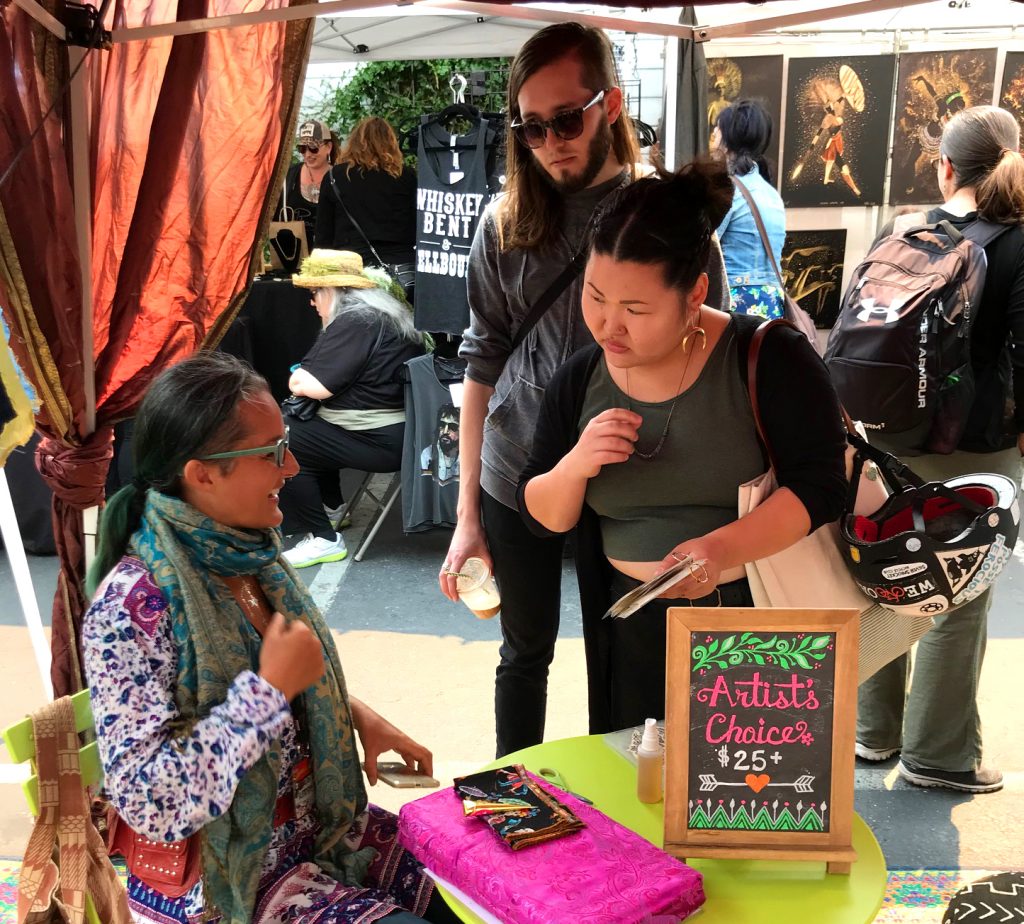 Registration will be open late May

We are looking for artists, creative vendors, builders, performers, and makers! Our fair is special in that we encourage all artists to make art right at their booths during the fair. There will not be chiropractor booths, plastic junk souvenirs, bouncy castles or children in plastic hamster balls. This is an art fair and maker market. There will be many fun activities for children, but they will be creative and art focused.
---
Requirements For All Vendors:
* All spaces are 10x10ft unless we have worked out something special with you.
* All vendors need to provide their own tables, chairs, shade canopy or umbrella.
* Proper weights (like sandbags) are required for umbrellas, tables and canopies.
* Weights are also required for any lose or light items on your table. (Think small rocks, paper weights, etc.)
---
* Artist Demo:  $75 /
"Artist Demo"= Artists spend 10-15 minutes doing a short demo about their creative process at their preferred time.
More about Artist Demo Space: An Artist Demo could be putting the final touches on a painting already in progress, inking in a rough sketch or short example of your craft technique while making jewelry, sewing, knitting, etc. You do not need to lug out a bunch of equipment for this or prepare a long detailed speech. We just want a short demonstration of your personal creative process.

*Important: Artist Demo Booths have priority over Sales Booths.
(Example: painters, sculptors, community art projects, hair braiders, henna artists, makers, visual, spoken word, performance art & more).
---
* Sales Booth: $125/
"Sales Booth"= You are selling art and/or other hand-made creative items. Preferably local. No mass produced or disposable products please.
---
Application Tips
Use the following tips below to help your chances of getting space!
> Artist Demo Booths & Community/Collaborative Art Project Booths have priority over Sales Booths.
> Provide photos of your booth from a previous show and/or a booth mockup of your planned layout.
> Provide images of your services, art or merchandise. Art related services and/or merch will rank higher.
> Fully complete the application with no missing information.
> Provide a full & clear description of your services, art project and/or merchandise.
> Make sure to check for emails from us. (check spam folders)
> Let us know in the Application Description Field if you have any special needs or requirements.
> Most of our announcements are made via email, social media and on our website. Keep your eyes peeled for updates.
facebook.com/alamedaartfair | http://artpush.org | http://studio23gallery.com | meetup.com/Alameda-Artists
---
Space is limited and all vendors must be reviewed and approved. Once approved only paid vendors secure space.
We will notify you to let you know if your booth qualifies and send more information about how to officially pay for your space.
Be prepared to complete the online application process. We will need the following information:
1. Full Name
2. Company/Booth Name
2. A photo of your booth stand, merch and/or service
3. Website and/or Social Media page
4. Contact information / Phone & Email
5. Any special needs or requirements. (Please add this in the description section)
Requirements For All Vendors:
* All vendors need to provide their own tables, chairs, shade canopy or umbrella.
* Proper weights (like sand bags) are required for umbrellas and canopies.
* Weights are also required for any lose or light items on your table. (Think small rocks, paper weights, etc.)
---