Coronavirus Update 5-27-20: We are saddened to have to announce the art fair has been canceled this year. We love our community and feel this is the best move forward for the safety of everyone. We are encouraging vendors and artists to take part in our virtual art show, 100 UNDER 100. Get more details.
2020 Fair is on Sunday July 5th Canceled
Cilick here for 2020 Summer Art Fair Vendor Registration
We will be reaching out to confirm approved vendors by mid to late March.
Thanks for your patience. -Wes & Jess
2019 Booths Sold Out!
We are looking for artists, creative vendors, builders, performers, and makers! Our fair is special in that we encourage all artists to make art right at their booths during the fair. There will not be chiropractor booths, plastic junk souvigniers, bouncy houses or children in plastic balls like hampsters. This is an art fair and maker market. There will be many fun activities for children and kids are welcome, but they will be creative and art focused.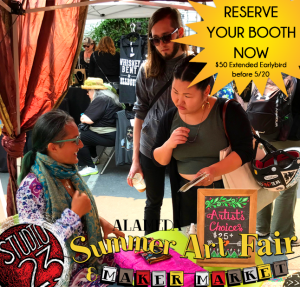 Artist's need to provide their own tables, chairs, shade canopy or umbrella (with weights).
2020 Booth Prices TBA
* Active Artist Booth:
$TBA
Means you will be making art at your booth. Active Artist Booths have priority over boutique booths.
(Example: painters, sculptors, hair braiders, henna artists, makers, visual, spoken word, performance art & more). Artists are welcome to share booths and we can help match partners if you are looking for a half-booth or need financial assistance please let us know and we will try and place you.
Vendors Register Here: VENDREG
* Boutique Booth: $TBA
Means you are just selling art and/or other hand-made creative items. Preferably local. No mass produced or disposable products please.
Gallery or Studio Booth ( 501c3 or full-time art space )
Discounted booths are available for art galleries and non-profits that focus on the arts. (Same pricing as active artists above). Booths are made available based on inventory. Please describe your org and booth int he registration.
Vendors Register Here: VENDREG
---
Space is limited, all vendors must be reviewed and approved.
We will notify you to let you know if your booth qualifies and send information about how and where to officially register and pay for your space if applicable.
Look forward to your submissions!
If you have any trouble with the above form, you can also email this information to: art at alamedaartists dot com
w/ the subject line Summer Art & Maker Market Submission.
Vendors Register Here: VENDREG
We will need the following information:
1. Full Name
2. Company Name
2. A photo of your booth stand
3. Website and/or social media page
4. Contact information / Phone & Email
5. Size of the space needed and/or your tent size. 10×10 or 8×5
6. Will you be making art at your booth?
7. Do you have an umbrella or tent?
8. Do you have the appropriate weights to hold down your booth and items?
Vendors Register Here: VENDREG
FB Page: https://www.facebook.com/alamedaartfair/
Main Entrance way Booth Layout: (Spaces 29 – 35) These spaces are 10'x6′ but you can use a 10×10 canopy as long as you keep the red area (4 foot wide path) clear for walking traffic. You do lose a bit of space but every visitor has to walk through your tent! You can also use an umbrella or smaller set up here.