---
Continue to check back for updates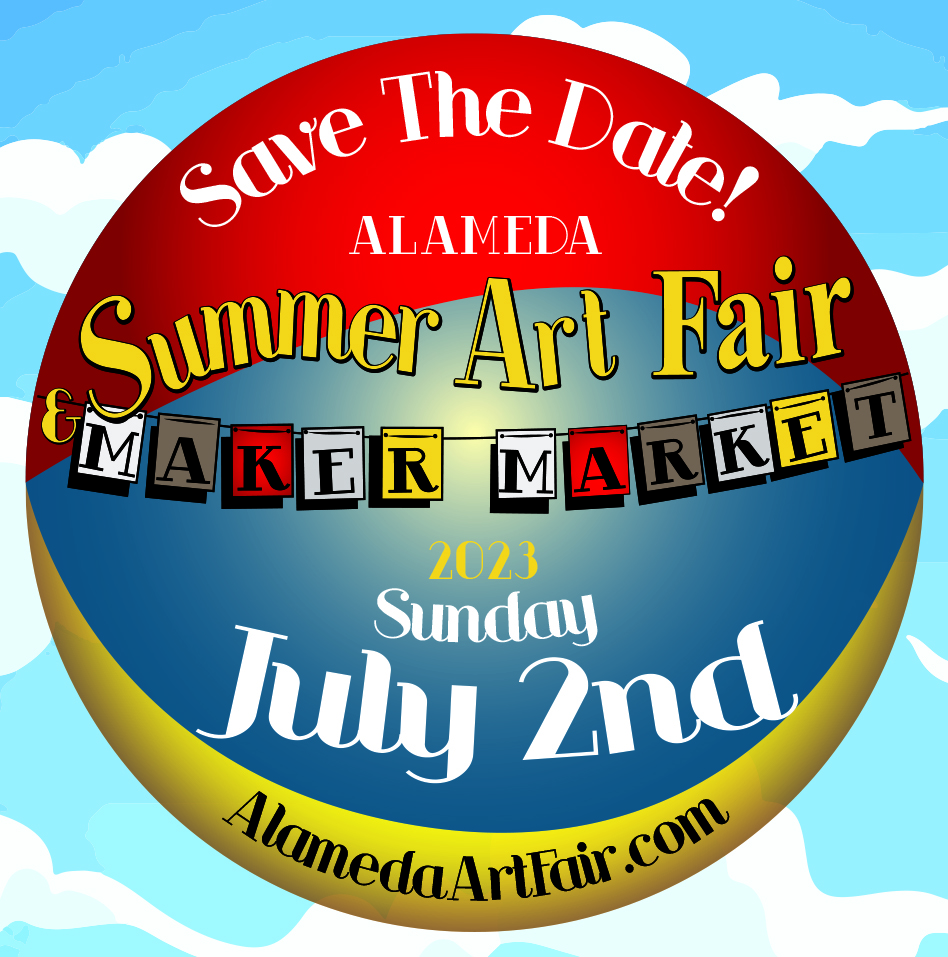 ---
June 15th, 2023
For Immediate Release:
Title: Flax Presents The 2023 Alameda Summer Art Fair & Maker Market
Free Outdoor Art Festival: Sunday July 2nd 2023 11AM-5PM
Studio 23 2309 Encinal Ave. Alameda, CA | AlamedaArtFair.com | RSVP | http://studio23gallery.com
Come see over 75 local Alameda and Bay Area artists at this free Outdoor Art Festival. Mingle with local emerging and established artists creating unique artwork during the fair! See live music, painting, sketching, sculpting and illustration. With everything from comic book art to clothing, to sculpture, there is something for everyone. Come support the local artists & makers that make the Bay Area such a dynamic and creative place to live. Over 30 live art demos. Open Studios, including "The Red Door On Encinal", "3 DOT" and Studio 23. There will be live music and festivities all afternoon. The festival will take place in the lot of Studio 23 Gallery at 2309 Encinal Ave between Park Street and Oak in Alameda.
IMAGES
Facebook Event URL: https://fb.me/e/X8dY8iJg
Official Website URL: http://www.alamedaartfair.com
Studio 23: http://studio23gallery.com
Studio 23 100 UNDER 100 Group Art Show: https://www.facebook.com/events/1221681541880270
Hashtags: #studio23gallery, #alamedaartfair Twitter: @Studio23gallery
#bayareaartists #sffuncheap #artfair #artistmarket #freeconcert #livemusic
Promote The Fair: http://www.alamedaartfair.com/promote-the-fair/
Open Art Studios: Studio 23 & 3 Dot on Encinal
The Alameda Municipal Power Company Presents
Performances on the Live Stage!
Live Music:
Headlining: TBA
Exact lineup TBA
Live Entertainment
TBA
Food and Drinks
Shannon Cooks
https://www.facebook.com/shannoncooksalameda/
Kids Creative Corner
Children are encouraged to participate in a multiple of fun art projects.
* 7th Annual Coloring Contest! Awesome prizes provided by Flax Art & Design. Artworks donated by artists, Jessica Warren, Sara Edge, Dave Sylvester & Wesley E. Warren
2023 Sponsors: Flax Art & Design, Alameda Municipal Power, EBX East Bay Express, Alameda Natural Grocery, Grocery Outlet, Alameda Island Brewing Company, BAE Boats, more TBA
Title Sponsor
Flax Art & Design: http://flaxart.com/oakland-store/
Flax will have tons of great art supplies available for the coloring contest and special prizes!
Live Stage Sponsors
Alameda Municipal Power: alamedamp.com
To apply to be a sponsor please visit: https://www.alamedaartfair.com/art-fair-sponsorship
Studio 23 Gallery
http://studio23gallery.com/
Alameda's coolest underground art space. Regular group shows featuring Bay Area artists. Home of Friendly Lord Zondar the giant robot, the Black Light Art Show.
Digifli:
https://digifli.com
Alameda's electronic billboards!
Press Contacts:
Wes & Jess Warren
Wesleywarren.com | Jessicawarren.net
415.580.2309 (Please leave a message we will return you call asap)
* In The News 2016 https://alamedasun.com/news/alameda-gets-artsy
---
2023 Press Release