Every year the Alameda Summer Art Fair & Maker Market hosts an all ages coloring contest with amazing prizes provided by Flax!
Brought to you by Alameda Natural Grocery.
Important contest information below. Terms and conditions apply. See rules and contest details below.
Exact times and dates are subject to change without notification. Contest entry must be on the wall by 1:30 to be considered.
Coloring Page Artists:
Top Row, Dave Sylvester
Bottom Row left to right, Jessica Warren, Wesley E. Warren
Get a head start, download and print a coloring sheet. Must be on the official wall before 1:30PM to be entered. See detailed rules below.
–
–
---
Coloring books and monster books will be available to purchase by Dave Sylvester at this year's art fair, visit 3 Dot Art Gallery for more information.
Jessica Warren's book, "A New Home For Sunny" will be available at Studio 23. See Jessica! Each book comes with your own plantable seed paper!
---
Visit Friendly Lord Zondar or go see him in real life perched over the masses at The Local in Alameda!

*How To Play
Color your entry at the fair or bring it in!

Hang it on the Official Studio 23 Coloring Contest Entry Wall!

Have your entry on the wall no later than 1:30PM



One winner per age category. All winners will be announced between 2:00PM-2:30PM Must be present to win.
---
* Meet The Judges!
Patti Goldstein @goldsteinpatti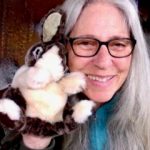 Biography of Patti Goldstein
Patti Goldstein was born in Buffalo, New York. Her art is as eclectic as her
career. She has been a bicycle messenger, radiation therapist, expressive arts therapist, hospital chaplain, interfaith minister, eldercare activity specialist, art teacher and artist. She taught art to homeless youth at Youth Spirit Artworks in Berkeley, California and is now teaching adults with different abilities at Stepping Stones Growth Center in San Leandro, California in their Artful Steps Program and has facilitated many groups in mental health day programs and hospitals. Patti has an MA in Clinical Psychology, specializing in Grief Therapy and Art Therapy, from John F. Kennedy University and has a BFA from California College
of the Arts. She received her Clinical Pastoral Education from Mt. Diablo Medical Center in Concord, California and she was ordained as an Interfaith Minister at the Chaplaincy Institute for the Arts and Interfaith Ministry in Berkeley, California.
Patti's art has been shown at The Bedford Gallery's "World of Frida" show in Walnut Creek, CA, The Day of the Dead showing at Hayward Historical Society, ArtVale and Creative Framing and Gallery in Oakland and Studio 23 in Alameda.
Patti designed and brought to life the HOPE WALL at the John Muir/Mt. Diablo's Behavioral Health Center, Concord, CA
Instagram: goldsteinpatti
Trish Henry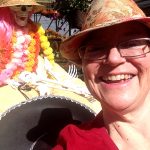 Trish Henry has been playing around with creating things all her life. She currently is working on a novel. She has worked in video, computer art, design, the web, glass art, drawing and painting! Trish has taught college-level courses in video, bookmaking, writing, and pop-up cards. She currently lives in Concord, Calif.
---
* More Contest Details
Ages 1-5, Ages 6-10, Ages 11-16, Ages 16+ (4 winners total!)
* One entry per person.
* Winners must be present to receive their prize.
* Submissions must be posted to the wall by 1:30pm.
* No entries will be accepted after 1:30pm.
* Winners will be called out live by the DJ between 2:00pm-2:30pm.
* Be near the DJ Booth at 2:00PM to listen for your name!
(If you have already left, your prize will go to the next winner in line)
* Names and email must be clearly printed on the coloring sheets. (Kids have your parents help!)
* Must be the official 2019 Art Fair & Maker Market coloring sheet.
* Give your entry to a judge to post on the wall or post it yourself!
Note: At the fair and can't find anyone to post your entry? Find some tape, a clear spot on the official entry wall and hang it yourself!
We will leave some masking tape out on the coloring table for you to use.
Entries posted to the wall after 1:30PM will not be accepted.
We will be collecting entries off the wall at 1:30 sharp!

Prizes vary. Each bag is unique. All contain a $50 gift cards as well.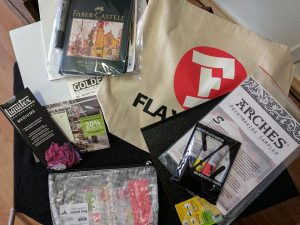 Coloring Contest "Hall Of Fame"
The Mayor Trish and Studio 23 Artist Wesley E. Warren announce "The Coloring Contest Winner" from last year! Maybe it will be you this year!

Behind the scenes: Judges & Volunteers
Things get a little nuts during judging time. This schedule is to help the contest go more smoothly for everyone.
Part 1
Before 1pm
Help keep coloring pages and art supplies organized on the official coloring contest table in front of Studio 23.
Masking tape will be placed on the table and just inside the Studio doors to hang entries on the wall.
After an entry is complete, tape it to the wall. (or direct the parent where to tape it up).
One entry per person.

DJ Delicious will announce reminders to get entries on the wall by 1:30 throughout the day. Huge announcement reminder at 1:15pm.

Have prize bags already set up at the DJ booth in a box.

Repeat the DJ announcements at the coloring table at 1:00pm, 1:15pm. (Basically giving the kids a countdown)
1:25 Post A Sign: CONTEST IS OVER! Winners announced at the DJ booth at 2:00pm. Place signs on coloring table and the wall.

Pull down entries at 1:30pm sharp, no entries will be accepted after 1:30pm.
Part 2
1:30-2pm
Pull entries off the

Official Studio 23 Coloring Contest Entry Wall.

Be careful when pulling down entries and pulling off tape to not rip the pages.
Make sure tape is completely off the backs so pages do not stick together once stacked.
Divide the pages into 4 seperate stacks by age category. Use a paper clip to keep them divided.

Place a small gold star on the top corner of each age groups winning page. That will be a total of 4 stars. 1 star per age category.

Add 2 runner-ups to each age category (in case of no shows). Place a silver star on those then place directly behind the winning entry.

Layer the 4 stacks you created by age category, youngest to oldest.

Hand the final winning entries and runner-ups in order of youngest to oldest to the DJ by 2

pm sharp.
Stacks will look like this…
Stack 1: Ages 1-5 (Winner+ 2 runner-ups)
Stack 2: Ages 6-10 (Winner+ 2 runner-ups)
Stack 3: Ages 11-16 (Winner+ 2 runner-ups)
Stack 4: Ages 16+ (Winner+ 2 runner-ups)
Part 3
2:00-2:30pm
DJ Delicious announces the contest winners are being announced.

DJ Delicious thanks Flax Art Supply in Oakland for the awesome prize bags!

Hopefully Jess can be at the DJ booth to hand out prize bags.

DJ announces the first winner.

Wait a total of 1-3 minutes for that winner. Try calling out the name several times over the mic.

If it's a no show, go to the runner-up for that age category.

Be ready with a camera to grab a photo of the winner with their Flax bag.

After we finish we would love for you to continue to help out at the kids coloring area. Kids still like to be coloring all day even when the contest is over. Just make sure they all understand the actual contest is over. Signs should be posted everywhere at this point that it is over.
Note: Winners can leave with their winning entry after their photo has been taken. Be sure to get a close-up shot of the winning coloring page too (We need name & age info for later on).
Winners and entries will be posted to the Alamedaartfair.com facebook event page and website.
2018 Coloring Contest Winners! Photos by Nick Wadler
More coming soon!